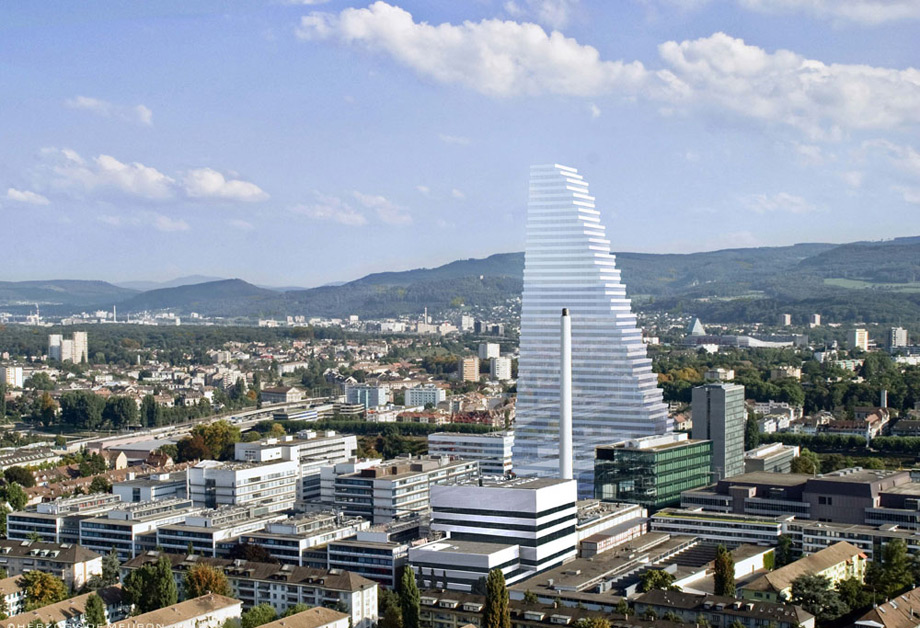 New landmark for Basel – the new Roche Tower is becoming Basel's highest building and is giving the city a new skyline. Located directly on the Rhine, on the site of the pharmaceuticals company Hoffmann-La Roche, a 175-metre high office building is being
Description

The building is planned for completion in 2015. The investment costs amount to 550 million Swiss Francs. Herzog & de Meuron's draft envisages a stair-like design that narrows towards the top and shows diversely steep stepped facades on two sides. The functional requirements inside the building include the multistorey, decentralised so-called "Communication Zones", which also contain outside terraces. If need be, the workplaces can be flexibly adjusted.
Among other things, the 41-storey building houses an auditorium with 500 seats, a staff restaurant and several cafes.
The bw-engineers partner company is commissioned with the General Construction Management. In addition to classic management services such as project organization, deadline and cost controlling, risk and quality management, demand management, documentation and reporting, this also includes the coordination and technical leadership of all persons involved in the project as general planner. Further, the experts take over the planning of the facade technology, energy consultation, TGA and structural design.
Facts

Client: F. Hoffmann-La Roche AG
bw-engineers Member Company: Drees & Sommer Stuttgart GmbH
Project Duration: 2009 – 2015