Callistion, a project developing company, has built an office block with a facade of alternating brick and window strips – inspired by the architecture of the 1920ies.
SUBPROJECT
The estraordinary impression of the house is produced by the balconies on the ground floor, the first floor and the two step storeys. The receded step storey offers maximum flexibility by ist overhanging hollow-body ceilings without support. The building
Description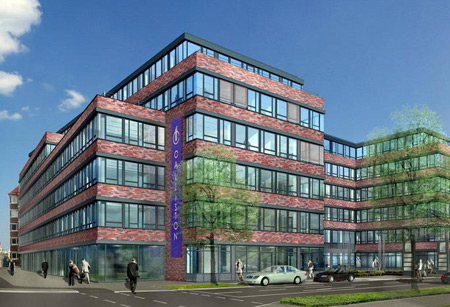 The clear and authentic conception of the architects and efficient ground-plans offer abundant rooming possibilities and give the new building ist very special effect. Brick and steel, typical elements of Hamburg's traditional counting-houses, find their modern continuation in the new "Quartier am Zeughaus".
SUBPROJECT
six floors plus two basement floors, office screening of 5.6 meters and 7.6 meters span and UZ system ceilings, development of the underground floors in waterproof construction, measuring of the foundation elements in uniform settings and thus avoidance of expensive fugues between the different parts of the building
Facts
Client:
Calliston Gesellschaft für Projektentwicklung mbH
bw-engineers Member Company:
Reck & Gass
Project Volume:
35,0 million Euro
Construction Volume:
Project Volume (z. B. "approx. 6,0 million Euro")
Project Duration:
2004 – 2005
Services
Structural Engineering
Structural Concrete